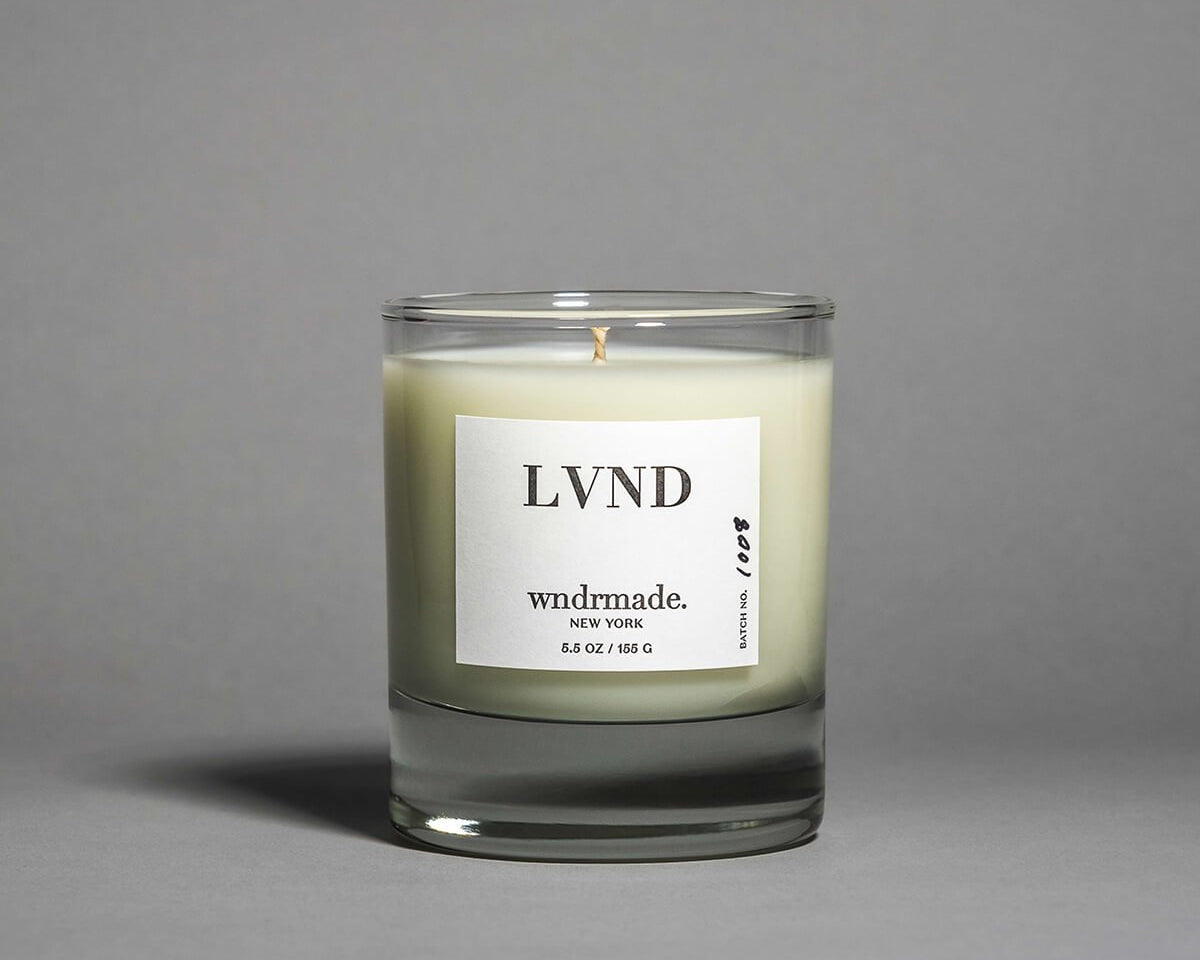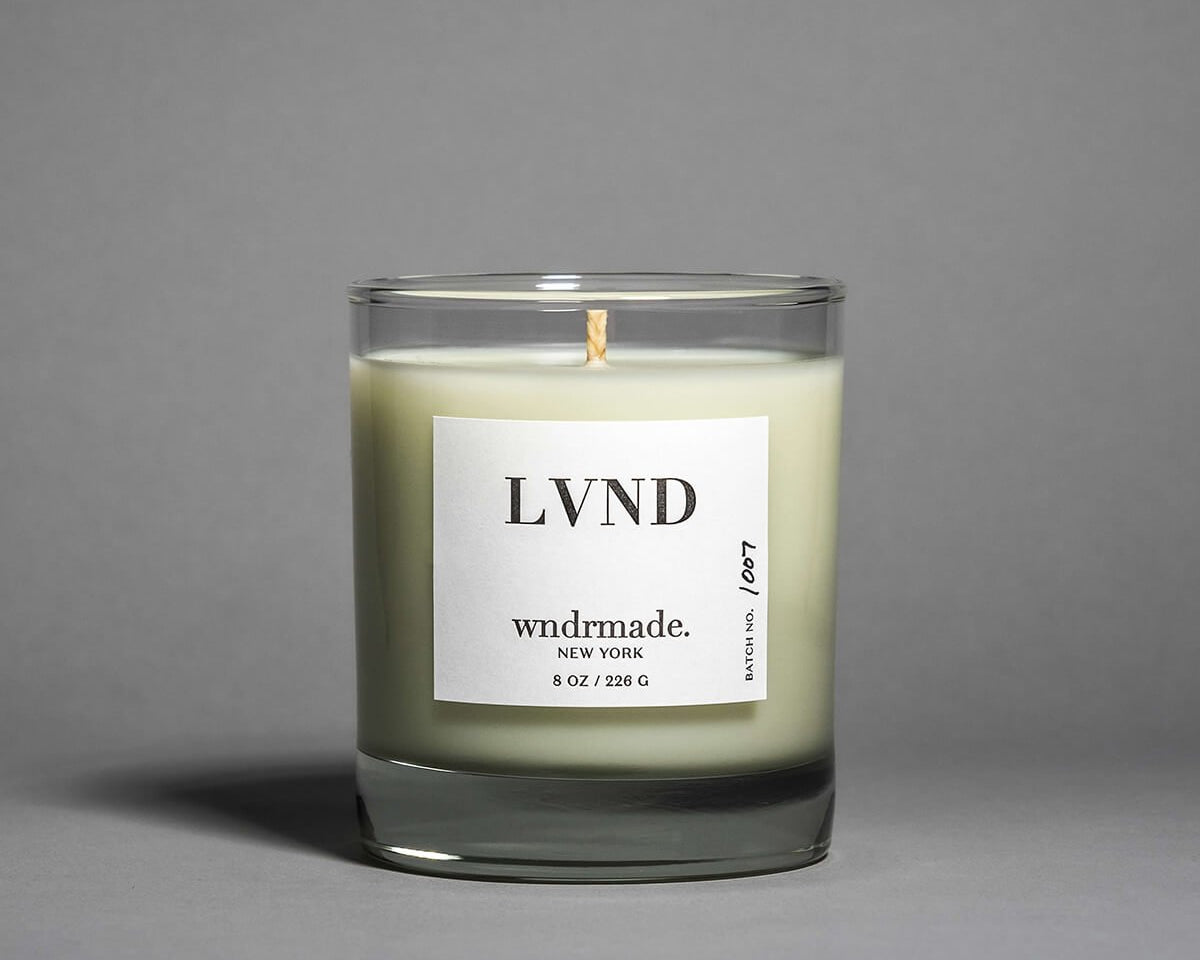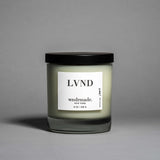 Description

LAVENDER - In the mountains of France, you can walk the vast fields and rows of little purple flowers with a soft, powdery scent revered the world over. Our lavender scent is made with the real thing, no cheap synthetics or lavendin substitutes, just pure French lavender complimented by woody, balsamic heart and an herbaceous top note.

NOTES
Base: Amyris
Mid: Lavender
Top: Thyme
ADDITIONAL INFO

Net Weight: 8 oz / 226 g
Height: 3.75"
Diameter: 3.25"
Burn Time: Up to 45 hours

Net Weight: 5.5 oz / 155 g
Height: 3.50"
Diameter: 2.875"
Burn Time: Up to 33 hours
CANDLE CARE

Make sure you have enough time for your candle's initial burn. Your first burn should be up to 3 and 3.5 hours for 8 oz candles and 2.5 and 3 hours for 5.5 oz candles, or until a full melt pool has formed. The first and every burn should melt the wax to the edge of the container, ensuring that as your candle melts it does so evenly down the glass.

Trim candle wicks to 1/4 inch before every burn. Long, or crooked untrimmed wicks can cause uneven burning, or your candle to burn too quickly, produce soot, and can reduce the fragrance.

Please see our Candle Care section for more information.
---
BORN OF NATURE, MADE FOR HOME.®
At Wndrmade®, we create all of our perfumery in-house using only plant derived essential oils, CO2s, and absolutes. It was our choice to never utilize pre-bottled synthetic fragrance oils, or the molecular isolates of modern perfumery in favor of a natural, artisan approach. ✨
---
Free shipping on orders $99+
1% PERCENT FOR THE PLANET X ONE TREE PLANTED
WHAT WE'RE MADE OF
ALL NATURAL PERFUME GRADE ESSENTIAL OILS, CO2S, AND ABSOLUTES
We create all of our perfumery in-house, using all-natural essential oils, CO2s, and absolutes. Our fragrance recipes can utilize 12 to 20+ oils that we combine and fine tune into one-of-a-kind perfumes, our own take on classic scents that have inspired us. 
NO SYNTHETIC FRAGRANCES OR DYES
We made the choice to never utilize cheaper, pre-bottled synthetic "fragrance oils" or molecular isolates in favor of a natural, artisan approach to perfumery. 
RESPONSIBLY SOURCED INGREDIENTS
We work with environmentally conscious, industry leading essential oil producers who specialize in natural perfumery and aromatherapy. They vet all of their sources to make sure that they operate in an ethical way. 
VEGAN AND CRUELTY FREE
Made with a blend of coconut and soy wax, we do not use fossil fuel based waxes, which unfortunately remain in use today as the industry standard.
1% FOR THE PLANET x ONE TREE PLANTED
Wndrmade® is committed to supporting environmental causes and offsetting our carbon footprint. We have pledged 1% of sales to the preservation and restoration of nature. For every product you purchase, we will also plant a tree. 🌱
ECO-FRIENDLY, ZERO PLASTIC PACKAGING
It means using natural paper labels and reusable vessels that can be repurposed and last years. Also, instead of having toxic packaging, we use washi tape, recycled/recyclable paper, and zero plastic. 
INTRODUCTION
LVND : In the mountains of France, you can walk the vast fields and rows of little purple flowers with a soft, powdery scent revered the world over. From these high elevations, we source true lavender (not spike lavender or lavendin hybrid strains) that boasts a brilliant natural coumarin-like aroma. Complemented with a soft wood base and herbaceous top note, this complex and all-natural gem takes Lavender from typical to sophisticated.